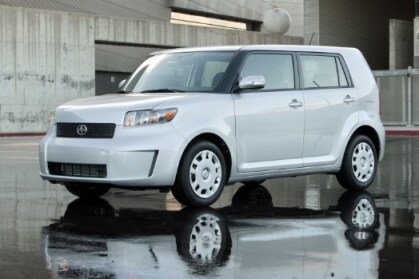 The
Scion xB
has a funky boxy shape that has become a favorite of car buyers who just want something different. It's not a cookie-cutter SUV, in appearance, or functionality. Check out these highlights from the Edmunds.com review and then come to
Checkered Flag Scion
and see for yourself why the xB is different in all the right ways!-
Attracting the coveted 18-to-34-year-old age group is job one for Scion, the youth-oriented division of Toyota, and its xB wagon is the fashion centerpiece of the brand. Although the Scion xB has the body of a miniature delivery truck, even in its second generation this box still casts a distinctive silhouette. Additionally, Scion has made it easy for its customer base to personalize their xBs by offering an extensive list of aftermarket-type dealer-installed accessories, including advanced audio systems, wheels, body kits and mild performance modifications. Pricing is no-haggle style, and Scion builds your vehicle to order in about a week.
While the original Scion xB was a re-badged version of a Japanese-market Toyota, the second-generation model was designed with the American market in mind. The current xB is exactly 1 foot longer than the last box, 3 inches wider and actually 2 inches shorter in height. This creates a more substantial, less toy-like appearance, and a more useful overall vehicle. A more powerful four-cylinder engine means that its acceleration is also less toy-like and borderline quick.
Typically, cars in this price range aren't much fun to drive, and while the Scion xB has never been overly sporty, its suspension and steering have been tuned to deliver crisp handling, furthering the impression that you're getting more than you paid for when you buy this compact wagon. With all these advantages, it comes as no surprise that the Scion xB has indeed proven popular with the younger clientele the company was hoping to attract. However, its appeal has not been lost on older buyers who need a lot of room but don't want to spend a lot.
The current Scion xB sports the same 2.4-liter inline-4 as the Scion tC and Toyota Camry. It produces 158 horsepower and 162 pound-feet of torque. Fuel efficiency is rated at an EPA-estimated 22 mpg in the city and 28 mpg on the highway. This is a bit less than the previous-generation xB, but we think that's an acceptable trade-off considering its substantial acceleration improvement.
Inside, the xB's boxy lines translate to a surprisingly roomy interior that allows young socialites to transport three to four friends with no complaints from the backseat. Besides that, the 60/40-split rear seats fold flat, making the Scion xB an ideal cargo hauler for the move back into the dorms with a whopping 70 cubic feet of space. The instrument panel now presents radio and climate controls in a higher, more ergonomic position, but we could definitely live without the small centrally mounted gauges. When equipped with the touchscreen navigation system, the xB's display screen can be used to interface with an iPod, making it certainly the easiest and safest way to control an MP3 player while driving.
In road tests of the current xB, we found it to be a significant improvement over the car it replaced. It feels more substantial and stable than the old box -- particularly at higher speeds -- and its more powerful engine is better suited to the chores of a wagon. Regardless of whether you fall into Scion's target demographic of younger urbanites, as long as you can live with its funky shape, we think the xB is an excellent choice for those who are looking for a well-equipped, safe and versatile small utility vehicle.
Source:[
Edmunds.com
]