I am working on the web video for the
Porsche 911
right now, and I came across this awesome old-school 911 on Car and Driver. Take a look, then visit
Checkered Flag Porsche
and order yours today!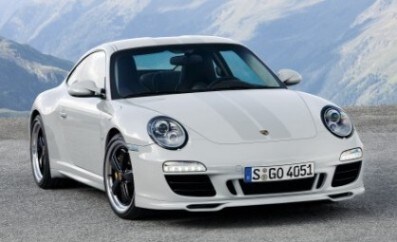 This limited-edition model of the iconic 911 goes old-school.
As of this writing, there are 17 permutations of the 2010 911, and that's assuming Porsche keeps its new-model introductions to a paltry five at this years Frankfurt auto show. The 17th model-joining the 911 Turbo coupe and cabrio, GT3 RS, and GT3 Cup at the show-is the 911 Sport Classic, a limited-run 911 that puts the special in special edition.
This heritage-y look was put together by Porsche Exclusive, the people who make Porsche dreams come true for a price, and took three years to develop. The package is based on the Carrera S but uses 4S rear bodywork, allowing for a wider rear track. The most obvious aesthetic change is the double-dome roof, which we'll call a Doppeldomesgerufe. (And we wouldn't be surprised to see that roof panel on all manner of future 911s, since it doesnt make a ton of sense for it to have been engineered solely for such a limited production run.) A SportDesign fascia and unique lip spoiler adorn the front, while a ducktail rear spoiler evokes the 1973 Carrera RS 2.7. Black-painted 19-inch wheels are styled after the iconic Fuchs wheels familiar to vintage-911 oglers. Other small touches, such as black headlight-trim rings and black side-mirror brackets, set this Sportier 911 apart and give it a Classic feel.
Source:[
Car and Driver
]