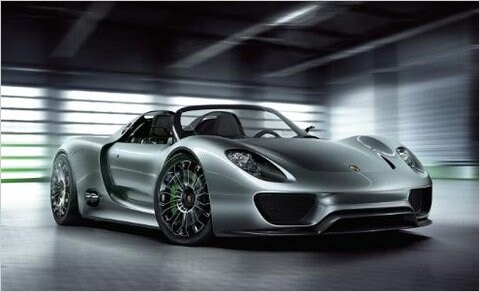 Ready for four words you probably never thought you would hear together. Well here it comes; officially, that is-Porsche Hybrid Sports Car.
That's right, folks. We have gotten word this week that
Porsche
has finally given the green light to start development on the oh-so-cool 918 Spyder. The combination of a 500 horsepower, 9,200 rpm 3.4 liter gasoline V8 along with two additional electric motors provides this beast of a machine with a total 718 horsepower engine. With a 3.2 seconds zero-to-60 mph take off speed, the 918 Spyder is an all-wheel drive environmental dream for those who thought hybrids were just for us slow-moving tree huggers.
Months ago auto enthusiasts were able to drool over the 918 Spyder concept car the Geneva auto show and Auto China in Beijing. The response for the then only five month old idea was so enormous that this week Porsche decided it was time to put their imagination to the test.
Still not sure the hybrid will be fast enough for you? Well, according to reports,
Porsche
places the 918 Spyder out in front of the Carrera GT around the Nürburgring Nordschleife (what many consider the wildest race track in the world). We don't want to leave the tree-huggers out though. The Hybrid 918 Spyder brags a roughly 78 miles per gallon gasoline consumption as well as an extremely low 70 grams of carbon dioxide per kilometer.
Excited yet?? Well, you will have to wait a few months before seeing one of these babies hit the road. We're probably looking at a release around the spring of 2012. You will certainly need to use that time to save up some cash if you plan on purchasing the 918 Spyder. Rumors are circulating that the price of the vehicle could exceed $600,000. Porsche is keeping the door shut on the actual pricing for now.
The great news is there are plenty of outstanding Porsche vehicles available right now at Checkered Flag Porsche in Virginia Beach. For you eco-conscious customers, or econ-conscious considering gas prices,
Checkered Flag
Porsche currently offers the 2011
Porsche Cayenne Hybrid SUV
. Looking for something a little faster, well we have plenty to choose from right here at your premier Virginia Beach Porsche dealer including the
911
, Boxster, Cayman, and
Panamera
.
We will certainly be providing updates when more information as more information becomes available about the newest member of the Porsche family, the Porsche 918 Spyder.