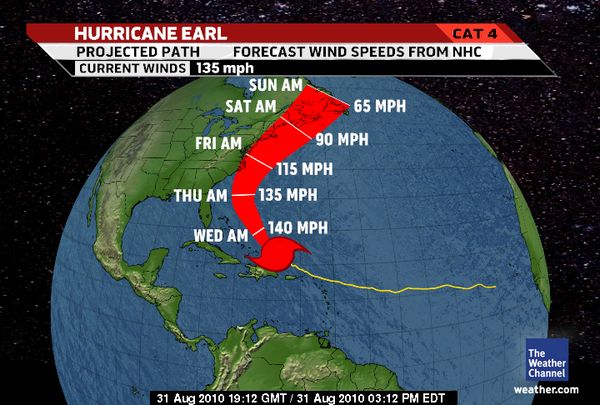 Photo source: [
weather.com
]
Batten down the hatches!! A great squall is a brewin'!
Seriously folks, it's time to head out to the grocery store and stock up on the staples. I've just gotten word that there is a good chance we're going to be in for some terrible weather this week. This nasty fellow, Hurricane Earl is tearing through the Atlantic as we speak, and some weather reports are putting the bulls eye right on Hampton Roads for Earl's landing spot.
The following is a link to Wavy.com for the latest Hurricane Earl update:
Checkered Flag Wavy 10 Weather Link Hurricane Earl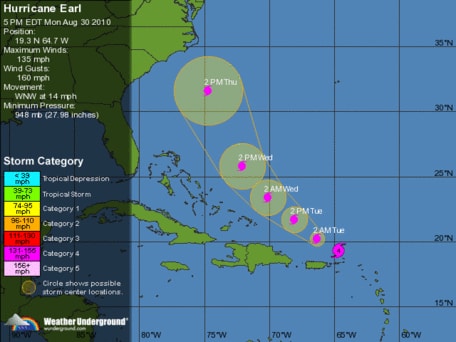 I found a nice tracking map over at WVEC.com as well. To see the tracker, click on the following link:
Checkered Flag 13 Weather Hurricane Tracker
At the very least it looks like we are in for quite a drenching. Remember your Summer Safety Series article about Flooding:
Checkered Flag
did not sell you a boat! Do not attempt to drive through water unless you are absolutely sure that it is safe. Most of Hampton Roads is prone to flash flooding, but what many people forget in times of hurricanes is that wind direction, in combination with tides, can send water into places that may not have flooded in the past. So be on extra alert. You may even want to park your
Checkered Flag
vehicles on higher ground just for extra insurance. Don't forget about the trees!! More vehicles are damaged by fallen tree branches than any other aspect of all that the hurricane fury brings.
I don't think I have to tell you all what to stock up on, we have all been through Hurricanes before. After all, it's just another part of living in wonderful Tidewater. But, I will say, if I get anything done over the next few days, it will be gathering enough water for a small army. I learned my lesson during Isabel, that you can never have enough water around, and it will get used up eventually.
So, pull out the Honda Pilot, the
Toyota Sequoia
, and the VW Routans and head out to Sam's and BJ's to load up on all those canned goodies and bulk batteries! Make sure to get out soon to avoid the crowds of panicking looney tunes.
If you don't fair so well during the storm, and your neighbor's 100 year-old oak falls on your BMW, just give us a ring at (757)490-1111 to schedule a visit to the
Checkered Flag body shop, Hampton Roads premier repair shop in Va Beach
. Unfortunately, I bet we will see a few of you there next week, but we will get you back on the road as soon as possible!
I will try to keep you all updated as best as possible throughout the week. For now, I'm running out for some Spaghetti-Os and Dasani bottles!