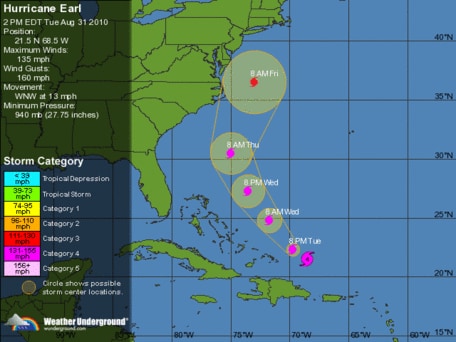 Okay,
Checkered Flag
Winners, I know you have all been waiting on the edge of your desk chairs for me to get back to you today, well, here I am, but unfortunately, I don't have any better news than yesterday.
I've got an official
Checkered Flag Hurricane Watch 2010
update for you, and it does not look great. I thought for sure the track for Hurricane Earl would have changed today, but it has not at all, or very little, depending on the weather source. Horrible Hurricane Earl is still headed our way, and now, behind him is his lil sis Fiona. The particular track above is from weather.com. The latest update available is from 2:00pm today, Tuesday.
Here again are the links to two of our local weather news update sites. I thought I'd go ahead and put them both up here again just so we can easily get more than one opinion on when exactly our houses are going to blow away.
The first link is for the weather tracker on WVEC.com. To see the tracker, click on the following link:
Checkered Flag 13 Weather Hurricane Tracker
The following is a link to Wavy.com for the latest Hurricane Earl update:
Checkered Flag Wavy 10 Weather Link Hurricane Earl
I've been looking all over for helpful information for us Hampton Roadsians, and I've come up with a great link that wraps up a whole bunch of info into a neat easy-to-navigate package. Just click on the following link to view the interactive guide from VDOT:
Checkered Flag Hurricane Earl Interactive Hurricane Guide
.
Another helpful tool I located on our Virginia.gov website was this video explaining our Hampton Roads Evacuation Routes. It is a bit lengthy for our blog, I admit, but it is interesting to see the explanation of how exactly our
Checkered Flag
Winners are supposed to all head for the hills (literally) at the same time. If you have difficulty viewing the video below, simply click on the following link and scroll down to this update article:
Checkered Flag Va Beach Evacuation Route
.