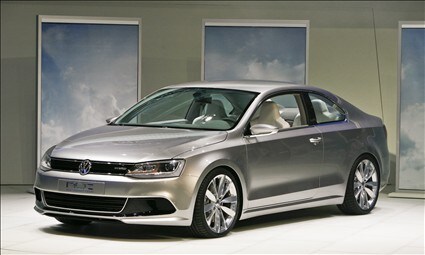 Article by msn autos-
Volkswagen
furthered its outspoken commitment to lower fuel consumption by unveiling a number of efficient concepts and models today at the 2010 North American International Auto Show here in Detroit. The most impressive of these is the hybrid Compact Coupe, marking VW's first committed foray into hybrid drivetrain technology.
Up till now, the German automaker has largely placed its bets on clean diesel as the fuel of the future. The Compact Coupe is capable of up to 45 mpg, thanks to an efficient 1.4-liter direct-injection turbocharged 4-cylinder gasoline engine and a powerful electric motor. How powerful? Volkswagen says the combined output should be close to 177 horsepower. That means that unlike the
Toyota Prius
and
Honda Insight
, this gas-electric hybrid might turn out to be a machine people may actually enjoy driving.
Volkswagen has nestled that robust electric motor between the gasoline engine and a 7-speed dual-clutch gearbox to maximize efficiency and allow the two powerplants to complement each other when a little extra grunt is needed. Even better, the Compact Coupe can be operated in full electric mode. Volkswagen has also incorporated a number of innovative fuel-saving technologies, including completely disengaging the gasoline motor from the transmission during coasting and using brake energy to restore battery power while on the go. Start/stop technology also finds its way into the gasoline engine.
Providing electricity is a lithium-ion battery positioned at the rear of the vehicle. The rearward location helps maintain the coupe's handling characteristics.
So far, Volkswagen hasn't said much in terms of production plans for the Compact Coupe, but given the car's largely positive reception and mainstream styling, it wouldn't surprise us to see at least some part of the Compact Coupe make it into Volkswagen showrooms - even if that immediately means only hybrid versions of the
Golf
and
Jetta
.
Source:[
msnautos
]