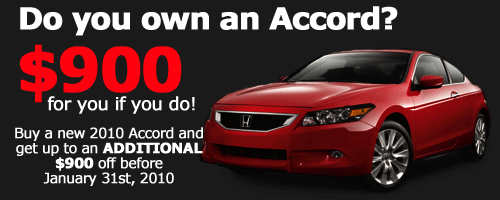 At Checkered Flag Honda, you can get an amazing deal on your next new 2010 Honda Accord. Not only are the discounts larger than usual, but if you already own an Accord the discounts are $900 better!
This is the first time a 2010 Accord has been available for this kind of savings. THE FIRST TIME!
According to Robert Chen, General Manager of
Checkered Flag Honda
, "I have never seen deals this good on Honda's. Between the savings Checkered Flag gives, and the incredible offers from Honda, there has never been a better time to buy one - never!"
Be sure to get yours before January 31st, 2010 when the offer is over.