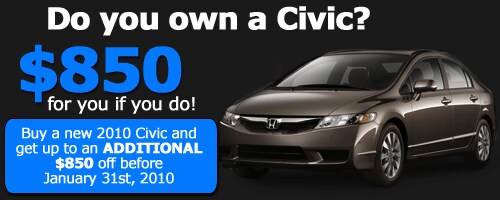 For the last week of January at Checkered Flag Honda, there are savings that make a new 2010 Honda Civic not only incredibly affordable, but also a deal you just can't pass up.
Checkered Flag Honda General Manager, Robert Chen, said "with the extra money off of Civics, and the wide availability we are able to get financing for just about anyone who wants a new reliable Honda. Even if you don't need any financing help, this is still the absolute best time EVER to buy a Civic!"
Don't let this get away from you because it ends on January 31st, 2010. New
2010 Honda Civic Sedan
models have $650 additional off. New
2010 Honda Civic Coupe
models have an additional $850 off.