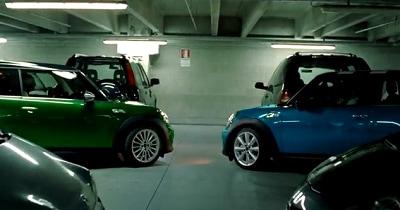 So, they paved paradise and put up a parking lot. At least some of us have great vehicles like the
MINI
to make all that cement a little more enjoyable. Check out the new commercial featuring every one of the MINI family!
If you have difficulty viewing the MINI Parking Lot video, just click on the following link and scroll down to this article:
Checkered Flag MINI Parking Lot Commercial
.
I love that they've featured all of the great MINI styles in different colors and even one with the checkered board roof. These look exactly like the real MINIs and MINI customers that pop in, just to say hello, all the time here at
Checkered Flag MINI
. The family is complete with the
MINI Cooper Convertible
, Cooper Hardtop, and the
MINI Clubman
. Soon, they will have to add the MINI
Countryman
to the family album! (What's a Countryman? Well, click here to find out:
Checkered Flag MINI Countryman
.)
For more information on how you can get ahold of these little four-wheeled fun nuggets, just give us a call at (757)490-1111 or click on the following link for our contact form:
Checkered Flag MINI Virginia information
. If you are lucky enough to already own a MINI, don't forget, we can get you a checkered roof and matching side mirrors or any other accessories through
Checkered Flag MINI Parts and Accessories
.