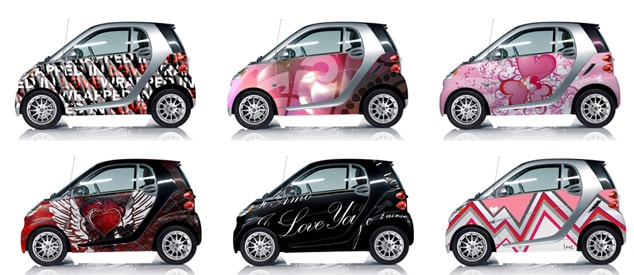 Happy Valentine's Day Checkered Flag smart fans!!
If you still haven't found that perfect valentine for your sweetie, I recommend heading out to
Checkered Flag smart
on your lunch break. Just look at these super smart Valentine ideas available through Checkered Flag smart!
Article courtesy of [
techcocktail.com
]
In the spirit of Valentine's Day,
smart USA
has rolled out a special set of Valentine's Day vehicle wraps for the smart Fortwo pure coupe to help drivers express exactly how they feel this holiday. The wraps are made of 3M vinyl and could make a great gift. There are six designs available which offer an array of options. Of course, a smart car is not included. First you need to have a smart Fortwo coupe which is a product of Mercedes-Benz engineering and offers an EPA-estimated 41 mpg highway. It is also 95% recyclable and is priced starting at $13,040.
If chocolate is more on your mind, then you might want to check out Japanese designer Tadaaki Wakamatsu's custom wrap modeled after a Q-Pot chocolate (shown below). Now wouldn't that be tasty! It's also worth noting that smart USA was inspired by Tadaaki's design so much that they created the Valentine's wraps shown above.
End of article.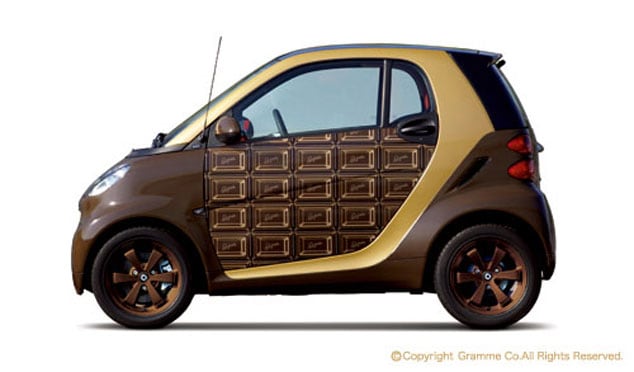 So, rush over to your
Virginia Beach smart dealer
, Checkered Flag smart right away and order your smart love wrap! And while you're there, go ahead and pick up your smart fortwo, the perfect valentine vehicle!
Call Checkered Flag
Virginia smart
at (757)490-1111 for details.