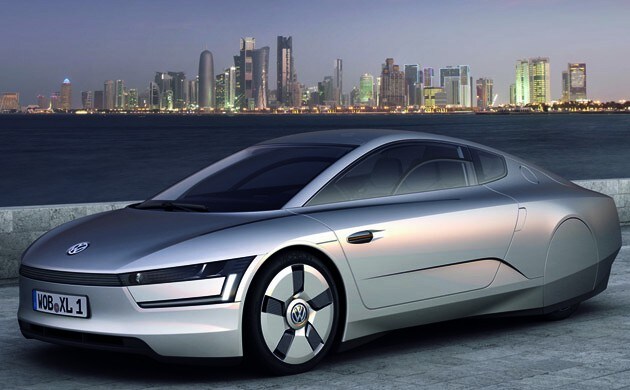 What the what? Can this be right?
I know you should only believe half of what you see, and none of what you here, but where do you fit in the unbelievable things you read?
Check out the newest autosphere hot gossip from AutoBlog.
Article courtesy of [
AutoBlog
]
Well, what do you know? When
Volkswagen
decided to show off the latest version of its so-called one-liter car, the Formula XL1, at the Qatar Motor Show, we wondered out loud whether or not the German automaker would actually manage to put it into production. As it turns out, that's the plan, albeit at a very small scale.
According to Automobilwoche (sub. req'd, via The Truth About Cars), Volkswagen will build 100 XL1s as a small batch of regular production machines... meaning they'll actually be offered for sale to the general populace. No word on what will power the production models, but the concept features a two-cylinder TDI engine, electric motor, lithium-ion battery pack and a seven-speed dual-clutch transmission. All that fuel-sipping goodness is enough to achieve an astonishing 0.9L/100 km - just over 261 mpg.
Germany will reportedly get first crack at the XL1, followed by the United States and China. Color us surprised that VW actually plans to produce a nearly 300-mpg machine, going to the trouble of putting it through safety and emissions tests and all that goes along with making it legal, for such a small batch of vehicles. Surprised, but pleased, while also a bit skeptical it will ultimately happen. Projects like these are usually the first to get cut when the global economy forces belts to be tightened.
End of article.
Now, if things thing actually does happen, you can be
Checkered Flag Volkswagen
, your
Virginia Beach VW
dealer, will be all over it! C'mon, 261 miles per gallon? I could pay my mortgage with what I would save in gas! The styling is pretty interesting, but supposedly it's the most aerodynamic and, therefore, efficient.
Of course, I will let all of you know when the first one of these Formula XL1 hits U.S. soil. Until then, come check out our currently available
VW inventory
, the best in Hampton Roads. Call (757)490-1111 for information or to schedule a test drive.