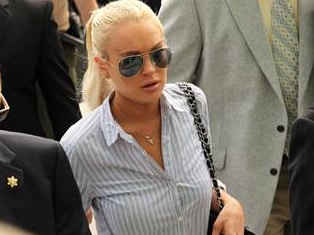 Oh boy, Lindsay Lohan is at it again.
Wait. Isn't she on house arrest?
Yep. But who says that has to stop the party?
In a genius move on Lindsay's part this week, the celebrity "hot mess" found her way around the house arrest bummers by throwing a party at her home/prison. And what would a party be without any booze?
That's right. The ne'er do well currently out of work actress had some splainin' to do in court this Thursday after her court mandated alcohol test came back positive. Now, Lindsay claimed the blood alcohol content had to have come from the healthy Kombucha tea she enjoys (no doubt to help heal that liver of hers), but the judge wasn't buying it. Lucky for Lindsay, this time, alcohol consumption did not put her in violation of her probation and she will not have to return to jail.
Judge Stephanie Sautner of Los Angeles Superior Court did give Lindsay a sharp talking to Thursday stating, ""Don't give people reason to hate you. Don't do stupid things that fly in the spirit of the court's order," and "You know I sentenced you to jail. You know I didn't sentence you to house arrest, and what do you do? You have barbecues at your house so your neighbors are writing letters about you." But, unfortunately, besides the inconvenience of having to wake early and head to the courthouse, Lindsay will see no further punishment. Judge Sautner did, however, warn Miss Lohan to hold off the partying until her house arrest is complete.
Many of you might remember a young Lindsay from such films as "The Parent Trap," "Mean Girls," "Freaky Friday," and our
Checkered Flag Volkswagen
fan favorite, "Herbie Fully Loaded" costarring a lovable
VW Beetle
.
We're pulling for you Lindsay. It is time to get it together.
Photo and quote source [
today.com
]