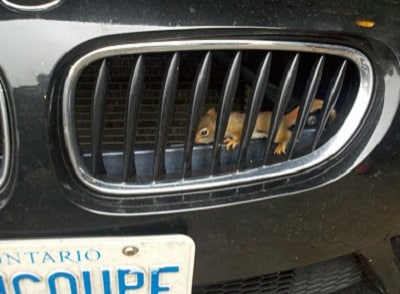 Forget 335 horsepower. This BMW Z4 is running on 6 squirrel power!
This story out of BMW is just too cute to keep to ourselves. Take a look at the six most adorable stowaways to ever cross the border and spark a whole furry, I mean, flurry of BMW media buzz.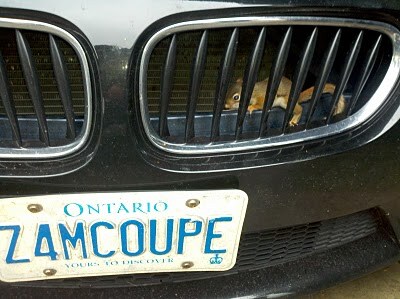 Article and photo source: [
onehotlap.com
]
After two BMW CCA driving school sessions at Watkins Glen Int'l, an event participant complained about the car feeling a bit "squirrely" out on the track. When he popped the hood open to investigate a possible cause, he found acorn leftovers and critter poop all over the engine bay. Upon further examination, it was determined that 6 baby squirrels had turned the car's airbox into their home and had been smuggled from Toronto through the U.S. border.
The event chair personally put on a squirrel rescue clinic getting all of the illegal immigrants out of the airbox by their tail and relocating them to a place where they won't have to experience threshold braking at 140 mph. BMW CCA is rumored to be putting together computer-based squirrel rescue training for other event chairs to follow. BMW North America is intrigued by the findings and is currently exploring options to replace its famous 6-cylinder inline engines with more eco-friendly 6-squirrels inline. Many animal rights groups have reportedly lined up to sponsor the driver's Team Flying Squirrels in honor of his support with providing luxury housing for the young family of squirrels. Because of the heightened interest in baby squirrels, it is now expected that Hollywood will be replacing Alvin & the Chipmunks with squirrels in its next squeakel. However, rumors that a Canadian goat was also found in the passenger seat of the vehicle and the driver ran over an instructor who tried to steal it and then dragged him all the way from the paddock to Turn 1 have been greatly exaggerated.
End of article.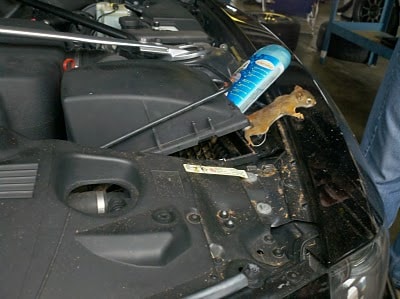 I know, it's cheesy, but, I think these squirrels had some pretty good taste in choosing their home. While I can't recommend any of our
Checkered Flag BMW
customers set up house under the hood, I can recommend dropping by and spending some time behind the wheel of the
2011 BMW Z4
.
To set up a test drive at your favorite
Virginia Beach BMW
dealer,
Checkered Flag BMW
, call (757)490-1111.