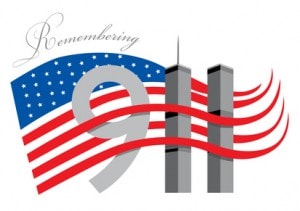 It's going to be an emotional weekend for all of us Checkered Flag fans as the tenth anniversary of the 9/11 attacks rolls in. In honor of the day, many local groups are holding special remembrance ceremonies or freedom celebrations around Hampton Roads.

All Checkered Flag stores will be closed on Sunday, September 11th for the annual company picnic-our own way to celebrate with our Checkered Flag family.

Our friends over at the Virginian Pilot have compiled a helpful list of all of the currently scheduled September 11th events for Hampton Roads.

NORFOLK

Healing and remembrance ceremony 8:30 a.m. Sunday, Town Point Park, Waterside Drive. (757) 664-4067.

Commemorative event Noon to 4 p.m. Sunday, Norfolk Police & Fire Museums, 401 E. Freemason St. (757) 441-1526.

Boy Scout Troop 1 flag-raising ceremony 9:30 a.m. Sunday, MacArthur Memorial, City Hall Avenue and Bank Street.(757) 441-2965.

Memorial 5K run 7 a.m. registration, Sunday, Kaufman Mall, Old Dominion University. Online registration at www.raceit.com/register/?event=6043.

Red, White and Serve 1 to 5 p.m. Sunday, Virginia Conflict Resolution Center, 586 Virginian Drive. http://vaconflictresolution.org.

VIRGINIA BEACH

"Let Freedom Ring! 9/11 Ten Years Later" 1:30 p.m. Sunday, 24th Street park, Oceanfront. (757) 491-7866.

Remembrance services 8:30 a.m., 9:30 a.m. and 11 a.m. Sunday; reception after each service; prayer vigil 8 p.m.; Haygood United Methodist Church, 4713 Haygood Road. (757) 499-1269.

Charity soccer tournament Gates open 8:30 a.m. Sunday, final match starts 4:15 p.m., Virginia Beach Sportsplex. First responders compete against military members; hosted by the Virginia Beach Police Department Soccer Team. Donations benefit the Navy SEAL Foundation and Fallen Officers Remembered.

CHESAPEAKE

"A Time for Remembrance" 7 p.m. Sunday, Great Bridge Presbyterian Church, 333 Cedar Road. (757) 547-4706.

Beyond 9/11 9 a.m. Sunday, Unity Renaissance Spiritual Life Center,1120 N. Eden Way. (757) 420-5280.

Virginia Freedom Festival 4:45 to 11 p.m. today; 10 a.m. to 11 p.m. Saturday; and 7:30 a.m. to 6 p.m. Sunday, City Park, 900 Greenbrier Pkwy. (757) 435-0180 or http://vafreedomfest.com.

Memorial services 8:45 and 10 a.m. Sunday at Jackson Memorial Baptist Church, Taylor Road, Western Branch. Hear Northern Virginia Fire Chief John Everett talk about being at the Pentagon on 9/11.

PORTSMOUTH

Memorial stair climb 8 a.m. registration, Sunday, Renaissance Portsmouth Hotel, 425 Water St. $25. Benefits the National Fallen Firefighters Foundation. Register at www.regonline.com/stairclimb11-portsmouth.

SUFFOLK

Remembrance service 7 p.m. Sunday. Candle lighting, prayer and song atSt. Andrew Presbyterian Church,1885 Bridge Road. (757) 238-3550.

Safety demonstration 11 a.m. Saturday at Taste of Suffolk in the historic district on North Main Street. Featuring the Suffolk Police and Fire departments.