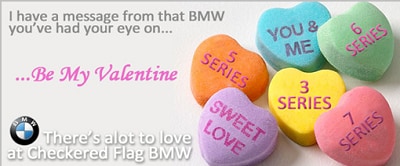 Checkered Flag BMW is ready to make a love match between you and the BMW of your dreams. Today through Valentine's Day, February 14th, 2012, our most popular models are on sale.
You're love affair begins here. Pricing refers to new 2012 models in stock:

3 Series Convertible models - $300 over invoice
5 Series models - $500 over invoice
650i models - $650 over invoice
750i and 750Li models - $750 over invoice

We're also offering new 2011 BMW 3 Series models at BMW Model Year End Closeout Pricing as low as $1,800 UNDER invoice!
Call your favorite Virginia Beach BMW dealer now to schedule a test drive, or for more information: 757-490-1111

Offer expires: 02/15/2012