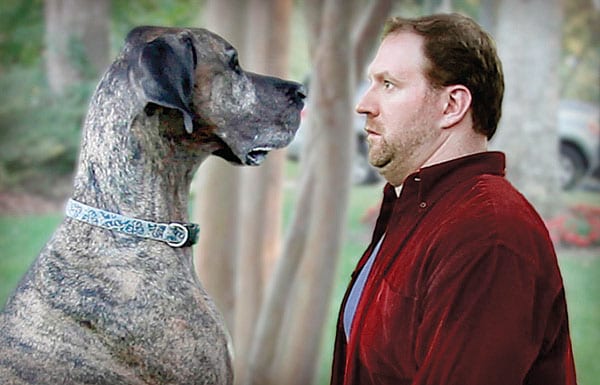 This is one time Hampton Roads can truly root for the home team on Super Bowl Sunday!
One local man is sure to be paying more attention to the commercials running on the jumbo-tron than the game taking place on the field in front of him. That's because while the guys in helmets are running around trying to snag that Super Bowl ring, the Virginia Beach resident will have his eyes on a million dollar prize. Read more about it in the following article from The Virginian Pilot and view the video of the ad.
The video should appear here. If you are having difficulty viewing the video on this page, simply choose the following link and scroll down to this article. Link:
Virginia Beach Man's Best Friend Super Bowl Ad
Virginia Beach man's Doritos ad could fetch a million
By Roy Bahls
The Virginian-Pilot January 13, 2012
Jonathan Friedman will be sitting so pretty at this year's Super Bowl that he won't really care who wins the Feb. 5 game in Indianapolis.
He'll be kicking back in some prime real estate: a suite near the 50-yard line. It's a prize he's won, along with $25,000, courtesy of Frito-Lay.
More is at stake.
The self-employed graphic designer from Virginia Beach could take home $1 million in a TV commercial contest for Doritos. Friedman's homemade spot, "Man's Best Friend," is one of five finalists out of 6,000 entries nationwide. *
Two will be chosen by online voting to run during the Super Bowl. The commercials that air during the game will be eligible for the $1 million prize if they are ranked as the best Super Bowl commercial by either a USA Today panel or voting in the USA Today and Facebook ratings.
Friedman will be checking the TVs in the stadium suite on game day to see whether he's in the running.
"I won't know until then," he said.
In Friedman's commercial, a man witnesses his dog covering up a crime, and the pet tries to keep his owner quiet by plying him with Doritos.
Starring in the commercial is Huff, a 120-plus-pound Great Dane owned by Joe and Betsy DiJulio of Virginia Beach. L. Derek Leonidoff plays the Doritos-loving owner; Friedman's brother, Matthew, is assistant director and "dog wrangler."
Friedman said it took four hours and cost about $20 to shoot the 30-second spot. The other finalists are from Los Angeles and Denver. Friedman notes that his ad is the only finalist east of the Rocky Mountains.
"So if you are east of the Rockies," he said, "we are the home team."
End of article.
Keep an eye out for Super Bowl weekend events happening at your favorite
Hampton Roads new and used car dealer
,
Checkered Flag
.