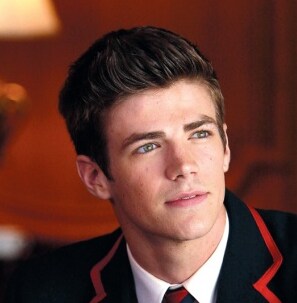 Local Actor Featured on Hit Show 'Glee' Tonight

If any of our Checkered Flag fans haven't had a chance to catch an episode of the hit show Glee yet, tonight would be a good night to try. That's because tonight's episode, which revolves around Michael Jackson hits no less, features a young local actor from Norfolk. Check it out!

Article and image source:[pilotonline.com]

More 'Glee' time for Norfolk actor Grant Gustin
By Rashod Ollison

Grant Gustin hardly ever knows what his day will be like.
Since the Norfolk actor started appearing on the popular Fox TV hit "Glee," his schedule has been filled with dancing and singing. A day on the set can stretch up to 14 hours, as Gustin performs one or two moves over and over again for different camera angles.
Sometimes, he sits for hours in his trailer, trying to stay focused, while the crew prepares production numbers.
"It's fun and scary all at the same time," said Gustin, 22, in a phone interview from Los Angeles. "I'm still not used to it, but I'm adjusting."
On tonight's episode, featuring the music of Michael Jackson, Gustin receives more camera time.
As Sebastian Smythe, a gay member of the rival Dalton Academy Warblers glee club, he will perform in three numbers: "Smooth Criminal," a duet with Santana, a cheerleader played by Naya Rivera; "Bad," an ensemble production; and "I Want You Back," with the Warblers.
It will be the most air time yet for Gustin, who has appeared in two episodes as a member of the Warblers, the all-male glee club that competes against the show's main characters, who sing at the fictional McKinley High.
Gustin's first episode, which aired Nov. 8, introduced his shady character, who sets out to come between couple Kurt and Blaine.
Tonight's show was filmed about two months ago. The process was taxing.
"While filming 'Smooth Criminal,' in between takes, I'd run to another room to rehearse 'I Want You Back,'" Gustin said.
"The next day, we shot 'I Want You Back,' and that was a 14-hour day. That's typical. By the end of the day, my knees and ankles are killing me."
Also around that time, Gustin shot an episode of the CBS high-tech crime show, "CSI: Miami," which aired Sunday. He played twins, one of whom was suspected of murdering their father.
His role on "Glee" may develop after tonight's show.
"In this episode, Sebastian isn't pursuing Blaine anymore as a potential boyfriend," Gustin said. "Sebastian is separating himself from the love triangle, which is a step toward the character developing on his own instead of being an appendage of Blaine and Kurt."
Despite online reports, Gustin says he still isn't a permanent member of the cast.
"Nothing has been signed," Gustin said. "It's a wait-and-see sort of thing."
In the meantime, he's adjusting to a new life in Los Angeles, where he lives with two roommates. The transition hasn't been easy.
"Everybody's like, 'Oh, you're out in California. It must be amazing,' " Gustin said. "The weather's beautiful, and I'm a working actor in Los Angeles, so it's a dream come true. But I am so far away from family, and it gets kind of difficult sometimes. All of this cool stuff is happening to me, and my family and friends are halfway across the country."
He speaks with his mother, Tina Haney, almost every day.
"We were shocked that he got the role as quickly as he did," said Haney, a pediatric nurse who also teaches at ECPI University in Virginia Beach. "He was in the right place at the right time doing the right thing. My prayer was always, 'I just hope the kid will work.' "
Haney said she spotted Gustin's artistic talent early on.
"I tell my students all the time, 'Just watch your children and see what they are good at and encourage them,' " said Haney, 49.
Haney suggested dance classes when Gustin was about 9, and he was resistant.
"He thought tap dancing was for girls. I told him, 'If you don't like it, I won't mention it again.' He loved it."
Gustin, a Granby High graduate, studied musical theater at The Governor's School for the Arts in Norfolk and appeared in local productions with The Hurrah Players. He aspired to be the consummate performer who could dance and act.
But "he couldn't sing," Haney said. "He came out of the womb dancing, but when he was growing up, he worked his pants off on his voice with vocal coaches. So for me, watching him on television singing, and knowing how hard he worked on his voice, really amazes me."
Haney said her other children - Tyler, 23, a senior at Old Dominion University; and Grace, 17, a senior at Maury High School in Norfolk - have been supportive of Gustin, who was home during the holidays. She doesn't worry about him too much in the City of Angels.
"He's responsible. He was a fun kid to raise," Haney said. "His father and I always told him to be sure to take care of himself. I know that he's sleeping and eating well. I know he sounds like he's this perfect kid. He's not a perfect kid. But he's made good choices growing up."
While working on "Glee," especially during the long stretches between numbers, Gustin has befriended a few cast members. He said he immediately bonded with Kevin McHale, who plays Artie Abrams on the show. Gustin said he's looking at other projects but wouldn't divulge details. He has filmed another episode of "Glee," and the work has been rewarding, despite the erratic schedule.
"On a big show like 'Glee,' producers don't know how much filming is going to get done in a day," Gustin said. "So you're sitting around for a long time sometimes. But you don't take it personally. You just go with the flow. I'm new to this, so I'm always watching and always learning as much as I can."

End of article.

Keep tuned in to CheckeredFlag.com, your source for new and used cars in Hampton Roads, for more local stories.