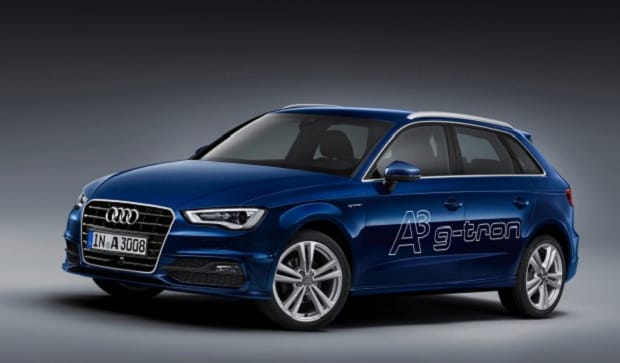 Audi technology
and power is set to impress, again, at Geneva as they unveil their
Audi A3 G-Tron
. This vehicle takes even
Audi's high standard
of Green driving to a new level. With the use of Natural gas and Gasoline, the vehicle is bound to get some serious attention at Geneva.
Audi Unveils CNG/Gas-Powered A3 G-Tron With 808-Mile Range
Written by: Christian Seabaugh
Audi's partnership with German electric giant SolarFuel bore its first fruit today, the bi-fuel Audi A3 Sportback G-Tron. The A3 G-Tron will be powered by "e-gas" and normal gasoline, giving it low CO2 emissions and a claimed 808-mile range.
The A3 G-Tron is fueled by conventional gasoline and "e-gas," the brand's name for a special carbon neutral compressed natural gas (CNG) that Audi co-developed with SolarFuel. Though Audi touts its own e-gas, the A3 G-Tron will also be able to run on conventional natural gas.
The A3 G-Tron is powered by a modified version of Volkswagen's new turbocharged 1.4-liter I-4. The engine, which produces 108 hp and 147 lb-ft of torque, is fed by three fuel tanks - a conventional gas tank, and two CNG tanks which are stored underneath the floor of the cargo area. The two lightweight tanks are monitored by an electronic pressure regulator, which is smart enough to switch the engine over to gas power if the pressure drops too low. Filler necks for both types of fuel tanks are kept under a single fuel filler flap.
Though the engine is started on gas, it switches over to CNG almost immediately. Audi expects the A3 G-Tron to have a 249-mile range on CNG and 559-mile range on gasoline. The G-Tron is expected to accelerate from 0-62 mph in 11.0 seconds, and have a top speed of 118 mph.
The Audi A3 Sportback G-Tron goes on sale in Germany at the end of the year. In Geneva, the A3 G-Tron will be displayed alongside the A3 E-Tron and the RS Q3.
Source: [
Motortrend
]
Checkered Flag Audi
is looking forward to getting all the info and release dates on this new addition. The
Audi A3
is a very popular model and with the marriage of the green technology, they are sure to be a great option for those thinking green during their next vehicle purchase.
For more information about this
Audi model
and all the other's at
Virginia Beach
's premier
Audi dealership
, call
Checkered Flag Audi
at (757) 687-3447 today.