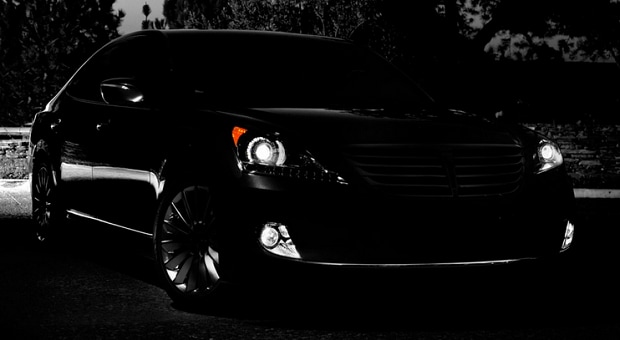 Source: [
motortrend
]
The Geneva Motor Show has come to a close and already the manufacturers are making our mouths water waiting to see more. For the vehicles that were not shown at Geneva, like the much anticipated
2014 Hyundai Equus
, the next auto show, New York, is the perfect showcase. Waiting time for the show will undoubtedly be filled with lots of tidbits of information, but the real deal will come at the end of March.
The
2014 Hyundai Equus
is one such drool worthy vehicles. There have been many teasers with shots of the car here and there, and little bits of information that have leaked out, but the latest leak is the most tantalizing.
Refreshed 2014 Hyundai Equus Teased Ahead of New York
Alex Nishimoto-Associate Online Editor
The 2014 Hyundai Equus has been teased in this single shadowy image ahead of its world debut at the 2013 New York Auto Show later this month. It's difficult to see what Hyundai has done to update its flagship sedan, but the automaker calls the 2014 model "significantly enhanced."
The 2014 Equus refresh is comprised of more than 30 new and enhanced features, according to Hyundai. Those changes include an updated interior with higher-quality materials, tweaks to ride and handling, an updated driver information display, and new safety features. Hyundai also says the car will receive new exterior elements, though it's difficult to discern exactly what those might be from this teaser shot. Brighten up the image, however, and it appears the chrome bumper accents beneath the headlights have been axed.
For all the other details on Hyundai's refreshed flagship, we'll have to wait until the 2014 Equus is unveiled on March 27 in the Big Apple. What do you think the Equus needs to keep up with its luxury sedan competition?
Source: [
motortrend
]
This picture is completely unfair
Hyundai
. Those
Checkered Flag Hyundai
fans out there are looking for something real to hold on to and we get a shadow! OUCH!
I guess to get the real deal we will just have to wait for New York's Auto Show at the end of March.
For more information about the current
Hyundai line-up
, give
Virginia Beach
's premier
Hyundai dealer
a call today at (757) 687-3447. Their great inventory and friendly service will give you much food for thought as to why your next car should be purchased at
Checkered Flag Hyundai
.