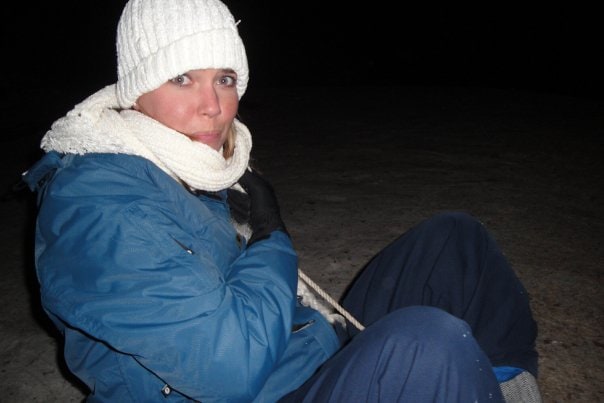 (Yep, that's me on a tiny, little sled, just before I was pushed down the hill)
I don't know about you, but I had a blast this weekend. Being snowed in with friends Friday night turned into a marathon game night. Saturday was cuddle with hubby time, and Sunday was throw yourself down a hill with nothing between you and the ground but a piece of thin plastic day! What a way to spend an afternoon. Hopefully you had a chance to play in the temporary winter wonderland too. As you know, along with the good comes the bad, and this frosty weekend has caused a lot of frustration for folks on the roads.
City and state workers are still cleaning up the mess today as people are slowly getting back into their normal routines. According to the Virginia Department of Transportation roads are still icy, and if you don't have to drive, you shouldn't. The Slurpee-like slush you've been crunching around in all day will freeze when the sun goes down and form dangerous ice patches, so please be careful. Icy patches will be a major obstacle for your morning commute tomorrow, especially on bridges and overpasses. Tonight be alert for black ice on the road, it may look like a puddle, but it is slippery ice.
If during this winter storm you fought the roads and the roads won, you are not alone. More than 1,200 guys and gals have spun and slid their way off the road and into ditches, poles, and other vehicles since the weather turned frosty. Whatever make and model vehicle you drive, if you need a dent popped out, a scratch buffed out, a fender replaced, or more extensive body work,
Checkered Flag Body Shop
can fix you right up. A lot of people make the mistake of thinking that we only work on makes we sell, like Toyota and BMW, not true. We are an equal opportunity ride-fixer-upper! So bring in your Ford, Chevy, Mazda, etc., and I promise we won't even try to sell you a new one (at least not too hard).
So call your insurance company, and let them know what happened, then either set up an appointment on
Checkeredflag.com
, or just bring your sleigh on in! Remember it is your choice where you want to have your car repaired, why not go with the best? We'll have it looking like new in no time. The
Checkered Flag Body Shop
is located between
Checkered Flag Toyota
and
Checkered Flag BMW
on the Boulevard. The address is 5301 Virginia Beach Blvd, Va Beach, 23462.
-Drive Safely, Folks!