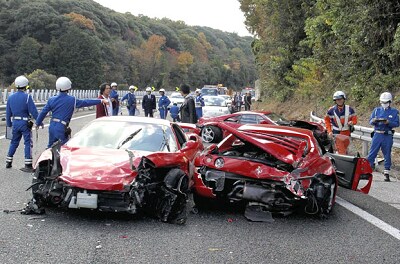 Photo and video source: [
autoblog.com
]
Warning: These photos might be just too much for some of our
Checkered Flag
auto lovers to handle.
Talk about Sunday drivers. This past weekend, what was possibly the most expensive car crash ever occurred along a rainy road in Japan. Luckily, no one was seriously injured. However, more than a few hearts were broken.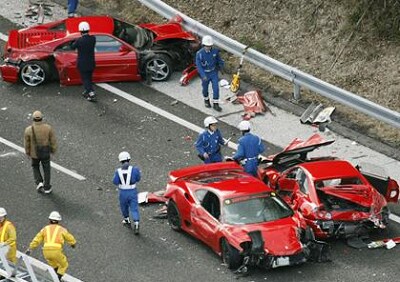 Article and additional photo source: [
usatoday.com
]
Even if it was a "gathering of narcissists," as police say, you'd think the owners of super-expensive Ferraris and other exotics would take a little more care while driving in the rain. Instead, they ended up with a mass of twisted Italian high-tensile steel.
Eight Ferraris and a Lamborghini were part of a 14-car crash in Japan yesterday that wrecked more than $1 million of vehicles, Bloomberg News reports.
"The accident occurred when the driver of a red Ferrari was switching from the right lane to the left and skidded," Mitsuyoshi Isejima, executive officer for Yamaguchi Prefecture's Expressway Traffic Police unit, was reported as saying by Bloomberg News. "It was a gathering of narcissists." The drivers were aged between 37 and 60 years old, he said.
The morning accident on a rain-soaked highway in the Yamaguchi Prefecture also involved three Mercedes-Benz vehicles and two Toyotas. The damaged exotics were all headed en masse from Kyushu to Hiroshima when the accident occurred. No one was killed, but 10 people sustained minor injuries. All involved sustained major injuries to their wallets. Reports Bloomberg:
The person suspected of causing the accident, a 60-year-old self-employed man from Fukuoka Prefecture, may face up to three months in jail or a fine of as much as 100,000 yen ($1,280), said Isejima. The accident included a Ferrari F-360 that costs more than 18 million yen. It took longer than six hours to clear the highway of wreckage, Isejima said.
TV footage showed a Ferrari that had plowed into the outer guard rail, while another one had its hood almost ripped off. End of article.
By the way, somehow a Toyota Prius found its way into the scuffle as well. Thanks to the fine Toyota engineering, it was able to hold its own and fared just as well as the much-more-expensive others. You can pick up your 2011 or
2012 Toyota Prius
here at
Checkered Flag Toyota
, your premier
Hampton Roads Toyota
dealer. Call our
Virginia Beach Toyota
store at (757)490-1111.