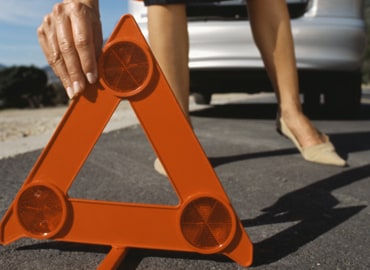 Daffodils popping up all over Hampton Roads can only mean one thing- spring is about to be sprung. Oh yeah!
Now, I don't know about you, but I am ready to hit the road. Weekends bring time for mini road trips and the warmer months are meant for roaming around. So, are you prepared? Sure, you've got a tank full of gas and a few dollars in your pocket, but are you prepared for those unexpected headaches that can halt our best laid plans?
Follow this checklist from Real Simple magazine before you and yours head out on your next great adventure. If you find you are a few items short, head up to your favorite
Checkered Flag service
location. Every
Checkered Flag store
carries car safety and first aid kits along with almost anything else you could possibly need in your adventures. For store hours or inventory inquiries call (757)490-1111 and ask for
Checkered Flag parts
.
Source: [
RealSimple.com
]
Aerosol tire inflator. Plug a small hole or a leak long enough to get to a garage. (Be sure the product doesn't contain flammable gases, such as butane, propane, and isobutene.)
Car-battery charger. Forget the hassle of jumper cables. Get a jump-start with a compact charger that renews your battery via the car's cigarette lighter.
Duct tape. After an accident, use the reinforced tape to patch things together temporarily.
Empty gas can. When filled, a one-gallon jug will hold enough to get you to a service station, without being burdensome to lug back to your car.
Fire extinguisher. You know how scary car fires can be if you've ever seen flames shooting from under your hood. Enough said.
First-aid kit. Stow a kit in an easily accessible space to treat cuts, burns, and traffic headaches.
Flashlight. Crucial for after-dark roadside repairs, emergency signaling, and, of course, old-school map reading.
Reflecting triangles. When your car breaks down or you pull over for a repair, make yourself visible-and warn off other drivers-with emergency reflective triangles.
Scraper. If you live in an area where cold weather brings ice and snow, choose a scraper that can tackle both.
Tow rope. In case you need a hitch-or want to give one.
Traction panels. Lay these lightweight metal panels under your drive wheels when you're stuck in slush, ice, or sand.