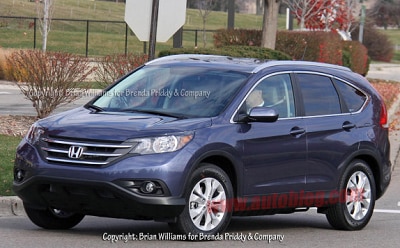 With the LA Auto Show coming up this week, many of our
Checkered Flag
automakers are releasing teasers to get everyone pumped up about their soon-to-be debuted models. This past week, Honda decided to be a little less guarded by going ahead and inviting press to preview their 2012 Honda CRV ahead of the show.
The result- some pretty great "spy" photos of the upcoming 2012 CRV for all of our
Checkered Flag Honda
fans to enjoy.
Now, of course, I won't have the full details of all of the ins and outs of the new 2012 Honda CRV (including release date and pricing) until later this month, but, they will be posted here on your favorite
Norfolk Honda
website as soon as they become
available.
For information on the currently available
2011 Honda CRV
, call
Checkered Flag Honda
at (757)490-1111 or stop by our
Virginia Beach Blvd Hond
a location for a test drive.
Excerpt and photo source: [
autoblog.com
]
We'll be honest: Not only have we already seen the production 2012 Honda CR-V in the flesh, we've driven it. And we aren't the only ones. In fact, these spy shots were taken during a local CR-V media drive that's taking place in Detroit, and while we can't talk about our impressions of Honda's all-new crossover just yet, we can tell you that the vehicle in these pictures is the final production model.
Honda will officially take the wraps off its 2012 CR-V at the LA Auto Show next week, with the first examples hitting showrooms before the end of the year. It's common knowledge that the new CR-V will continue to use Honda's 2.4-liter four-cylinder engine, though mated to a new (or, at least, revised) transmission that will enhance both performance and fuel economy. The CR-V's interior gets a healthy update, too, with some new materials used throughout the cabin. The overall form and function of the interior, however, won't differ much from the current model. End of excerpt.