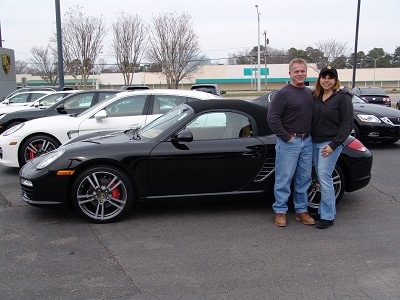 Roses are red; violets are blue, this Valentine's Day, only Porsche will do!
Love was in the air this week at
Checkered Flag Porsche
when Chesapeake's Eddie Chewning picked up a small token of love for his beautiful wife Gina. And what would a top-notch car enthusiast find the most romantic? A 2012 Porsche Boxster S and no less!
Mr. Chewning's company, Triad Demolition, was involved in the building of our Checkered Flag Volkswagen and Hyundai location years ago. He and wife Gina, the lovely dental assistant, met at the gym shortly after. And now, she shares his great taste for fine automobiles.
Now, I'm a happily married woman, but Eddie, I have some friends who would like to know: Do you have a brother?
If you're interested in checking out the gifts that keep on giving here at
Checkered Flag Porsche
, call (757)490-1111 to set up a test drive. Or, stop by our
Virginia Beach Porsche
, Audi, and Jaguar location on Virginia Beach Blvd.